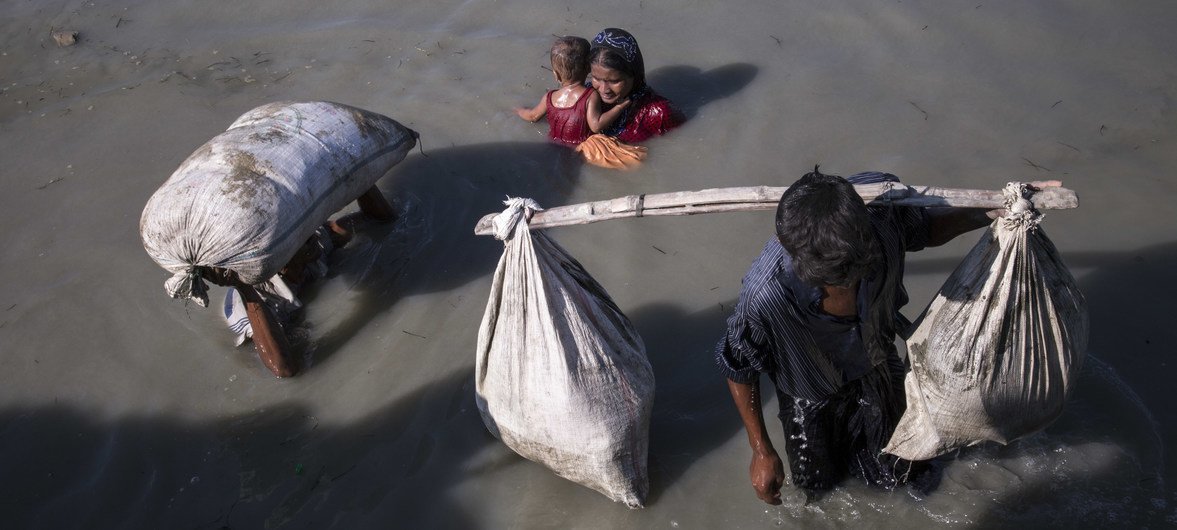 UNICEF/UN0136205/LeMoyne 
The "frenzied" scale of unspeakable violence against the minority Muslim Rohingya community in Myanmar has shifted to a "lower intensity campaign of terror and forced starvation," seemingly intended to drive the remaining Rohingyas from their homeland, a senior United Nations human rights official has warned.
"The ethnic cleansing of Rohingya from Myanmar continues. I don't think we can draw any other conclusion from what I have seen and heard in Cox's Bazar," Andrew Gilmour, the UN Assistant Secretary-General for Human Rights, said at the end of a four-day visit to Bangladesh which is hosting more than 800,000 Rohingya refugees, most of whom fled Myanmar this past August in the wake of a crackdown by the country's security forces.
According to the Office of the UN High Commissioner for Human Rights (OHCHR), a number of refugees told Mr. Gilmour that Rohingyas who try to leave their villages or even their homes "are taken away and never return."
They recounted incidents where family members were taken away by Myanmar's security forces and later found dead. Furthermore, people are too afraid to ask what happened – or in cases where they question or protest, are beaten badly.
There is also a "recurring theme" of women and girls being abducted, never to be seen again. Their relatives fear the worst – that they were raped and killed, added OHCHR.
Additionally, while the rate of killings and sexual violence in Myanmar's Rakhine province has gone down as compared to August and September last year, recent refugees arrivals narrated that towns near the country's border with Bangladesh are already largely emptied of its Rohingya population and the refugees arriving now are coming from places further inland.
"It appears that widespread and systematic violence against the Rohingya persists," added Mr. Gilmour, noting that the nature of the violence "has changed from the frenzied blood-letting and mass rape of last year to a lower intensity campaign of terror and forced starvation that seems to be designed to drive the remaining Rohingya from their homes and into Bangladesh."
[…]
Cet article vous intéresse ? Pour en lire la suite cliquez ici
---
Dernières news sur les conflits en cours (Vous pouvez proposer 1 news):